EDIT MAIN
Update Center
Coronavirus (COVID-19) information
March 24, 2020
The CISD cafeteria will offer meals at our Jr High School curbside, Monday through Friday from 9:30am-11:30am to ALL children 18 years and under. Parents can drive through our curbside location at 700 Commerce St (in front of the Jr. High School), child(ren) must be present, nutrition staff will hand the grab & go sack for breakfast and lunch (together at same time) through the car window for each child present. If you are unable to participate at our curbside location we will also have drop off locations along our bus routes. Bus lights will be on and flashing so children in the area may safely walk to the bus to pick up their meals, parent attendance is not required for bus drop off. Please note that buses will begin running at 9:30a.m. and will stop at each location for approximately 5 minutes. Please take a look at the attached map to see where the closest drop off locations will be in your area. Each route is color coded for each section of town and will run in order of listing. If you have any questions please contact Tracee Herbstritt at 940-937-2501 x1040 or by email at therbstritt@childressisd.net.
https://drive.google.com/open?id=1PVE3ZbLGfsyc_V3JaggvQxcHuLdESbDG&usp=sharing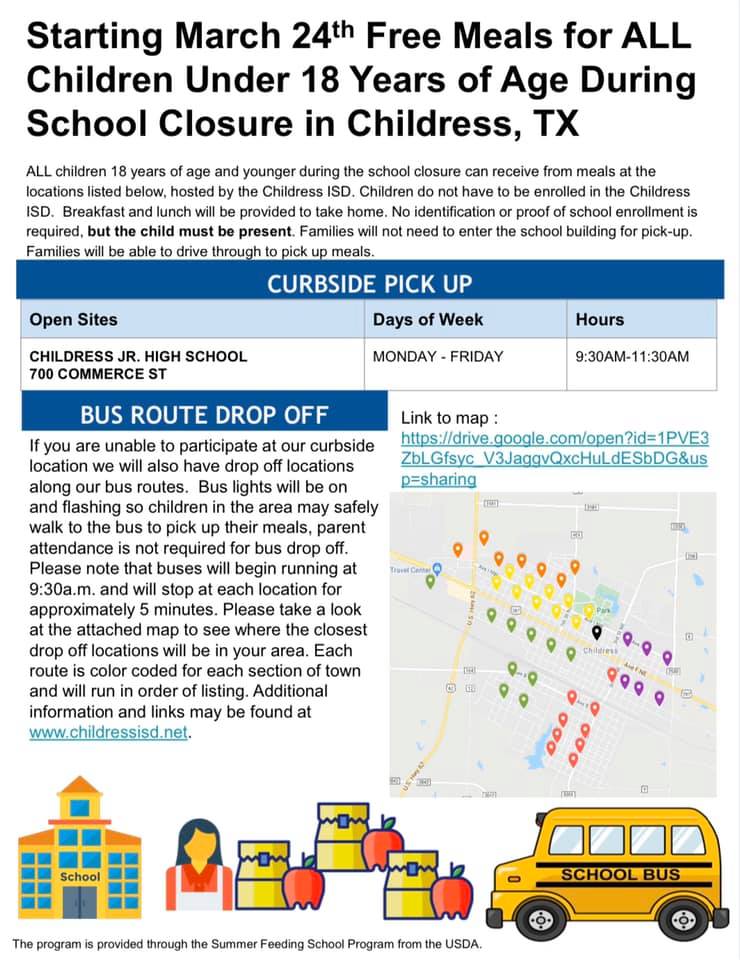 March 20, 2020
Welcome to uncharted territory! We must continue to educate our students, offer meals, and meet the needs of our special education students. There are many ways that this can be done. We are moving much of our teaching to online and digital platforms. We will also create take-home paper or digital email work packets for students.
Childress ISD will continue to offer instruction to your students from home. Principals and teachers will be available via email for questions and concerns during normal school hours. No students are allowed in any school facilities.
March 13, 2020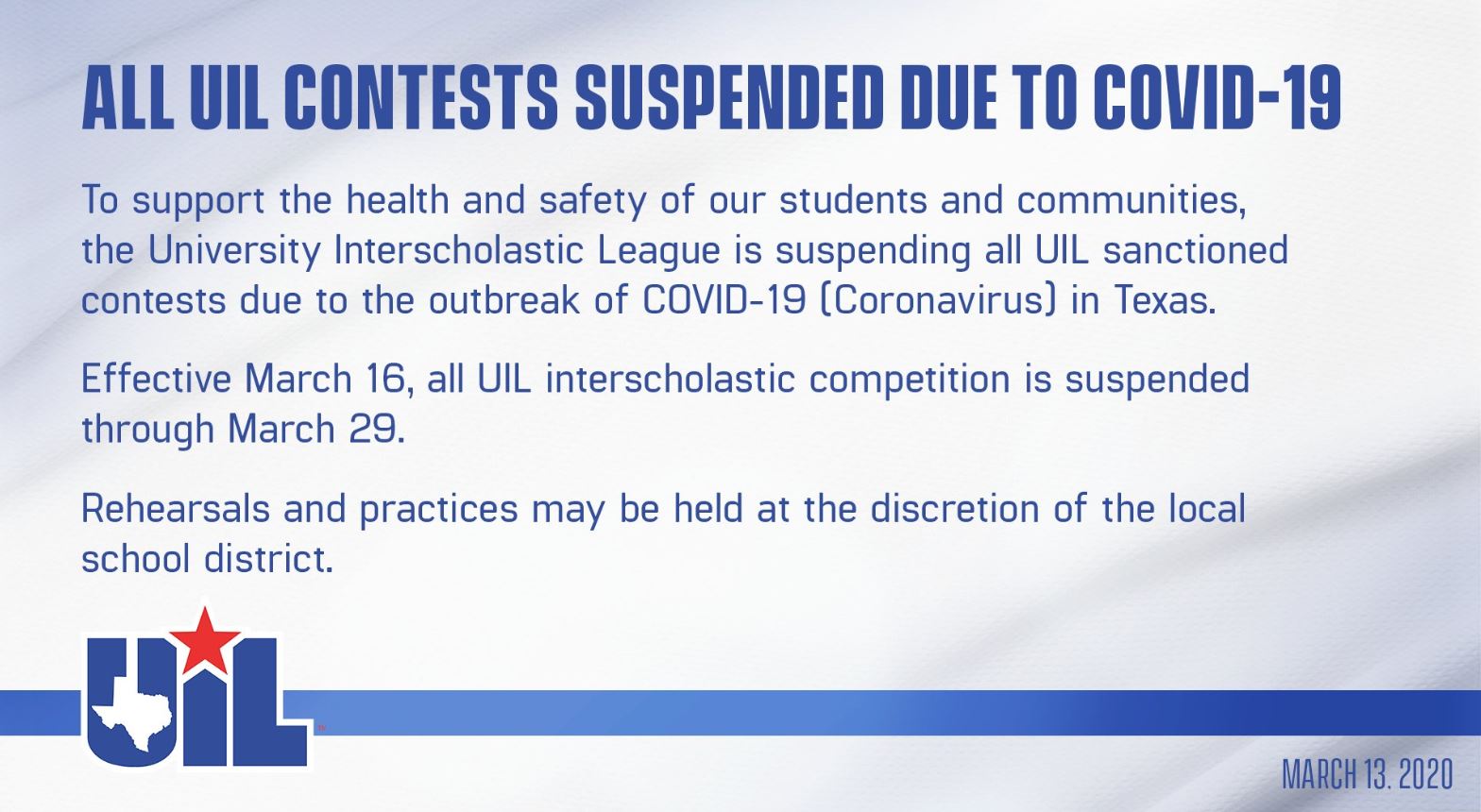 March 13, 2020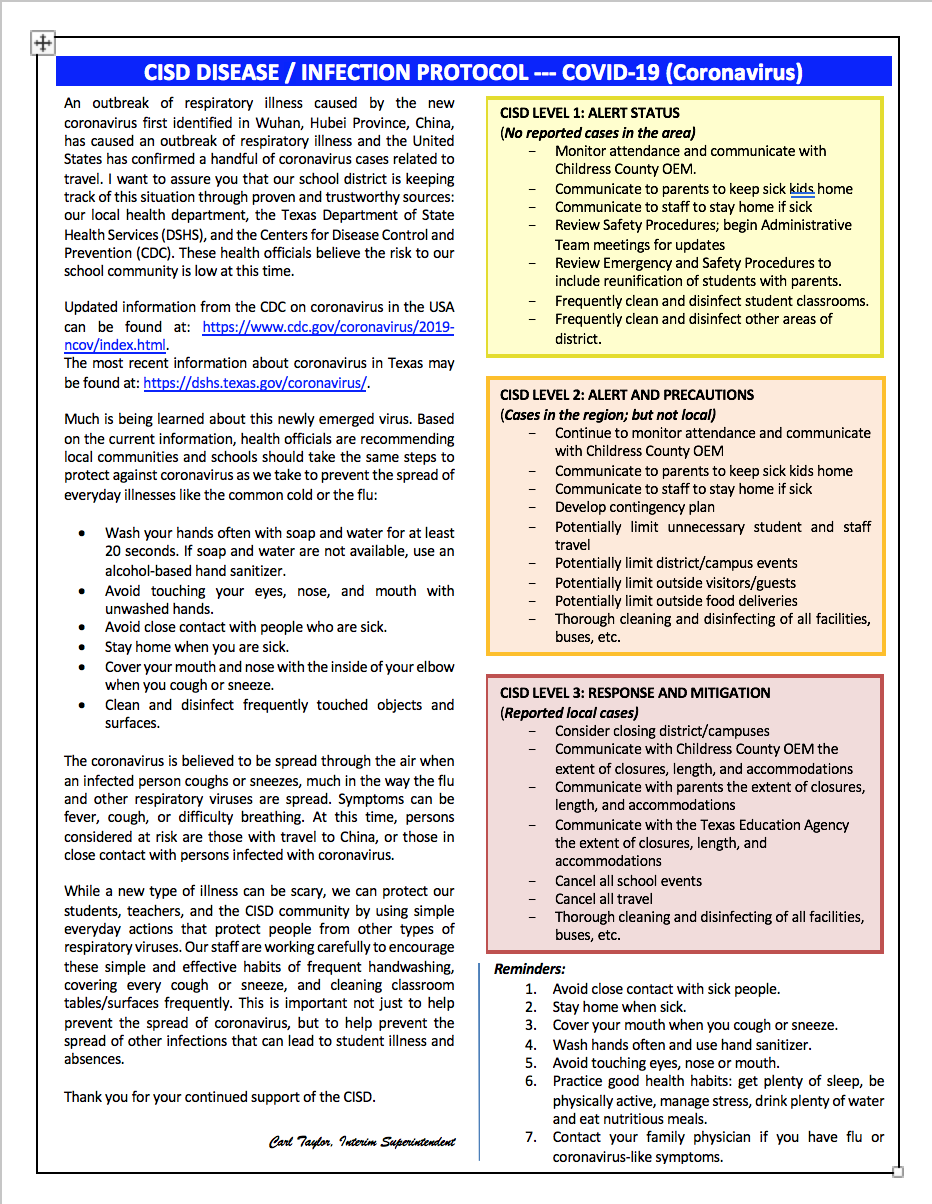 March 10, 2020
Childress ISD is closely monitoring the status of COVID-19 and is working to create protocols in case COVID-19 becomes established in our community. For now, our community is reporting no instances of a coronavirus outbreak, but that could change as time goes on.
Help our community to reduce the likelihood of a coronavirus outbreak. The CDC highly suggests that the most proactive steps people should take are for everyone to practice good habits, including:
Wash your hands often for 20 seconds using soap and water.
Cover your cough or sneeze with a tissue, then throw the tissue in the trash.
Avoid touching your eyes, nose, and mouth.
Clean and disinfect frequently touched objects and surfaces.
Avoid close contact with people who are sick.
Stay home when you are sick, except to get medical care.
Please use this page to stay updated. Childress ISD will continue to communicate with you in the days and weeks to come. It is possible that we may need to cancel classes if it appears the coronavirus has affected our community in a significant way.
As always, the safety of our students, staff and families remain our top priority. Childress ISD will continue to proceed with caution to protect everyone's health and wellbeing.