EDIT MAIN
HELLO Students and Parents of Childress High School and community members.
Here you will find information on issues of importance to your children such as bullying, social media safety, mental health awareness, emotional ups and downs, as well as guidance about your future!!
You will find information and links to college and career exploration, scholarship and financial aid applications, local scholarship forms, and other post-secondary awareness tips.
It is my hope that you will find my site information useful and that you will find a wealth of information on how to find answers to your questions. If I can't find an answer, I hope to help you find someone who can. Thanks for visiting and be sure to check out the VIDEOS & LINKS to scholarship deadlines in September as well as to Apply Texas, College for all Texans, VIDEOS & sites to help you begin your college preparedness journey!! I've added some new sites as well on the SCHOLARSHIP link page and the COLLEGE INFORMATION link page...please check these out!!
Remember, if you have questions after visiting this site, please give me a call at 940.937.6131 ext. 4040 or you may email me at jpiper@childressisd.net
13 Reasons Why…
You Should Talk to Your Guidance Counselor...
You are thinking of hurting yourself
You have been or are being hurt
You are thinking of hurting someone else
You know someone who is in one of the above situations
You are feeling worried or anxious or sad the majority of the time
Someone is threatening you
You are feeling isolated and alone
You are feeling not in control of your situation, at home or at school
You are having trouble getting along with others...family or friends
You are experiencing addiction
You need help setting healthy goals for your future
Any other reason!! There is help out there, all you have to do is ask...
My door is always open...for students and parents too! Please call me at 940-937-6131 ext. 4040 if you have questions or for parents, you need to discuss your child's education or well-being.
I look forward to talking with you!
Scholarships
MEGA LIST OF SCHOLARSHIPS FOR SENIOR 2018-2019
See the link below for a HUGE list of scholarships to link to...
SCHOLARSHIP SEARCH SITE!!
Check out the website below for FREE scholarship tools and match to upcoming scholarships...
https://studentscholarships.org
TEXAS TECH Current Newsletter (2018-19) including
ALUMNI ASSOCIATION SCHOLARSHIPS...
Here is the link to the current Texas Tech application for 26 general alumni association scholarships and also to look at the other 300 alumni association scholarships available.
CHECK IT OUT!!! Texas Tech Alumni Scholarships application
AMARILLO AREA FOUNDATION SCHOLARSHIPS 2018-19
Amarillo Area Foundation's online application is open and can be accessed at aaf.spectrumportal.net where students will need to register first so that they can then login and find the 2018 scholarship application. Students should use a personal email address, not their school email address, as we do all correspondence via email and school emails eventually get turned off. Here are some important things I want to point out (these are also noted on the application provided all instructions are read throughout the application).
Application deadline is Friday, February 8th at 12 pm (noon)
1. All academic data(such as GPA, class rank, class size) MUST match what is on students 7-SEMESTER TRANSCRIPT (must include Fall 2017 grades). If they enter different data than what is on their transcript, their application(s) will be declined.
2. Please make sure students know what GPA scaleyour school uses as they must enter that on the application.
3. Unfortunately, we will not be able to accept the FAFSA Student Aid Report (SAR) and this is a huge step backwards for us. As you might know, if a student imports financial information for themselves and their parent(s) directly from the IRS it does not show the financial information that was imported and therefore we are unable to verify adjusted gross income(s). For this reason, we will have to go back to requesting a copy of their parents IRS Form 1040 instead. However, if a student does not import financial information directly from the IRS, then we can accept their SAR provided their parent's adjusted gross income (line 85) and the students adjusted gross income, if applicable, (line 36) show the dollar amounts.
The Spectrum Portal Scholarship Instructions sheet is available for access at the top of the pdf's at the bottom of this page. If you have any questions or problems, you can send an email to scholarships@aaf-hf.org or you can let Mrs. Piper know.
Amarillo College Foundation Scholarships are now available as well as SYBIL B. HARRINGTON 2018-19 at link below:
All electronic applications now and deadlines TBA
SYBIL B. HARRINGTON (scholarship for students attending a four-year university. Pays up to $4,500 per year!! Access from website below and click on SYBIL B. HARRINGTON link. You do NOT have to be attending AC or WT to receive this scholarship. DUE Feb. 1st.
**IF you are attending Amarillo College, this is also where you'll access the AC Scholarship application. DUE March 1st.
Go to this website to access both scholarship applications.
www.actx.edu/foundation/scholarships
**You must scroll down to bottom of page to click on the Sybil B. Harrington link. **See Mrs. Piper if you have questions.
FARM BUREAU SCHOLARSHIP now available...
Must be member of Farm Bureau...but you can join for scholarship purposes.
See form.
MIDWESTERN STATE UNIVERSITY SCHOLARSHIP OPPORTUNITIES 2017-18 AVAILABLE AT THIS WEBSITE:
Page that lists all the MWSU scholarships found under Local Scholarships.
fastweb! A MONSTER COMPANY is now available to help you with
scholarship matches
college resources
financial aid tips
internship opportunities
Get started today!! www.fastweb.com
TUITION FUNDING SOURCES is a free scholarship database with over 7 million scholarships totaling more than $41 billion in award opportunities. Sign up and complete you personal profile at tuitionfundingsources.com
Walmart Foundation Scholarships
for Walmart Associates and their dependents...APPLY HERE!!
http://foundation.walmart.com/our-focus/associate-scholarships
OTHER COLLEGE SCHOLARSHIP SEARCH WEBSITES...click below
http://www.collegescholarships.org/
LINK TO FIND COLLEGE BUDGET/COST OF TUITION & FEES:
Go to site, type in/find the name of your college and select. The next screen will have "buttons" that you can select to find information...including one for tuition & fees.
LOCAL SCHOLARSHIP 2019 PDF's:
Open these scholarship pdf documents. They are editable so you can fill in on the computer and then print off to turn in for submission.
IF THEY SPECIFY DATES, you may want to wait for the NEW SPRING 2019 scholarship form but for most the applications are the same.
PLEASE SEE MRS. PIPER WITH QUESTIONS.
**NEW LOCAL SCHOLARSHIP - "I Believe in You" Bob Hart Memorial Scholarship. Posted below (DUE MARCH 15th) and call Mrs. Piper 937-6131 ext 4040 with questions.
The Gateway Conservation District Scholarship Applications are on the Gateway Groundwater Conservation website under the EDUCATION tab. There are TWO applications this year - one for a four year and another for someone who plans to attend school for a TECHNICAL degree.
HERE'S THE LINK:
Links
ACHIEVE TEXAS is a website where you can find hundreds of links to career exploration, colleges, scholarships and financial aid assistance. You can utilize the RESOURCES/LIVE BINDERS link on the RIGHT side of the page to get to a live binder of resources. Once you click on that link, it will send you to a page with the TEA GRADUATION TOOLKIT (very useful information on Graduation Plans for House Bill 5) and then again, you will choose CAREER PLANNING & DEVELOPMENT RESOURCES LIVE BINDER.
Within this site you will find TABS which are organized into Know Your Value, World of Work, Educational Pathways, Experiential Education, Plan Your Action, Create Your Future, Workplace Success. Extremely helpful links for college/financial aid/scholarships are available in the Educational Pathways section. The World of Work tab has great links to Career Exploration, some of which I will also post on Counselor Corner.
Helpful site for career exploration, college and financial aid.
Want to get your college answers online? You'll find a great resource in TG's Adventure in Education (AIE) website. This site helps you plan and apply for college, understand financial aid, learn how to manage money while in school, and prepare for your career.
NCAA Eligibility Center for Student Athletes
Texas College Application Site
APPLY TEXAS is the site where you will fill out the general application for Texas Colleges and Universities. REMEMBER your USERNAME and PASSWORD!! Be sure to record your information so that you can get to it. Leave it on the document in Mrs. Piper's office if you need a backup storage!!
Site maintained by the State of Texas Comptroller's Office. The site contains a wealth of information related to higher education, jobs, tuition savings plans, information on Texas colleges, and much more.
Federal Aid for Online Classes
FREE Application for Federal Student Aid (FAFSA)
You MUST fill out this application in the second semester of your Senior year. This application determines your eligibility for nearly all forms of aid to pay for higher education at the institution of your choice - including grants, loans, and work-study. Some colleges even use the application to determine eligibility for certain scholarships.
Minnie Stevens Piper Foundation Compendium of Texas Colleges
The Minnie Stevens Piper Foundation Compendium of Texas Colleges and Financial Aid calendar is information furnished to the EveryChanceEveryTexas website about admission requirements for Texas colleges and universities, scholarships, and financial aid.
Smart Student Guide to Financial Aid
Helpful source for Financial Aid and College applications.
TG - Texas Financial Aid Information Center (TFAIC)
The Texas Financial Aid Information Center (TFAIC) is free and available to all Texas students and families. TFAIC representatives can help you with admission and financial aid applications, direct you to resources on planning and paying for college, and explain federal and Texas-based financial aid programs and services. Help is available in Spanish and English
HOURS: Monday-Thursday 8am - 6pm (CST) Friday 8-5 (CST)
Great website with tools on how to address questions raised by the Netflix Series
"13 Reasons Why". Links provide information for use by teens, parents, educators, clinicians, and others on how to deal with issues like suicide, sexual assault, bullying, social media awareness, etc.
Safe and Effective Schools - Suicide Prevention
Informative website with crisis numbers, website links and helpful information for parents, friends, or anyone who wants to know how to help someone considering suicide.
State Map of Service Areas for Mental Health
State map with live links that provide contact numbers for service centers that can provide mental health and wellness services.
AMARILLO AREA FOUNDATION SCHOLARSHIPS
This is a group of scholarships available for students in the top 26 counties of the Panhandle. It is a general application which must be submitted and then the scholarships for which you'd like to submit your application are selected. There are some pieces of information which must be submitted separately from your application and the CHS Office can upload those items if needed. GET YOUR APPLICATIONS IN NOW!!!
Family, Career and Community Leaders of America scholarships
If you are involved in FCCLA, please go to this page and see the scholarship opportunities in TEXAS that are available to you. Click on Youth Leaders pulldown at the top of the page and then click on Youth Scholarship Applications in the red bar.
FFA Scholarship page to link to scholarships available for Texas, nationally, both general and specific. If you are involved in FFA, these scholarships may be for you!!
National FCCLA Scholarship opportunities
These are scholarship opportunities nationwide that are available to students who have been in FCCLA organization.
Helpful links for scholarships...general and category based.
Texas Financial Aid Information Center
Toll Free number to help answer questions dealing with Financial Aid and completing the FAFSA:
1-888-311-8881
First ACT TEST DATE of 2018-19 is September 8th!! Registration DEADLINE is Friday, August 10th. Go to www.actstudent.org to register for the test. If you need an ACT Waiver to pay for your test, and you receive free or reduced lunches to qualify, be sure to see Mrs. Piper!!
**Also be sure to attend the Chad Cargill workshop if possible to get prepared!!
Dual Credit Information
Instructions for Clarendon College online application and registration paperwork:
Go online to www.clarendoncollege.edu
Click on the Apply Tab bar at bottom of Home Screen
Click on Dual Credit link on RIGHT SIDE of Application Screen
The instructions below are listed on the next screen...You must click on the online application link (call Mrs. Piper 937.6131 ext. 4040 with questions), but you will submit your DC registration form to Mrs. Piper and then CHS will submit your transcript, your transcript, and your DC/Early Admissions Approval form. TSI scores will be confirmed by CC or submitted by Mrs. Piper. IF you need to take a TSI test, you may do this at the CC Childress Learning Center anytime before August 27th. Call 940.937.2001 to set up an appointment to test.
CAREER EXPLORATION GUIDANCE LESSON
1) Access Mrs. Piper's Counselor Corner page.
2) Go To Links (in gray box on R side) on Mrs. Piper's Counselor Corner page.
3) First Page will be Career Exploration (see pull down menu at top of page).
4) First LINK on Career Explorations page will be ACHIEVE TEXAS WEBSITE...Click link.
5) Once on Home page, click on TAB at top of page title PROGRAMS OF STUDY
6) Scroll to bottom of page and click on link to Texas Genuine Career Clusters Assessment.
7) Complete the survey to determine your top three Career Areas of Interest.
8) Once you've determined your top Careers Clusters, click on the corresponding Career Cluster icon at the top of the page to begin exploring careers within this cluster. This will also help you look at the proposed Program of Study within the Foundation Graduation Plan (or the Recommended Grad Plan) to see what core classes and electives you should plan to take during the remainder of your high school years.
College Information
APPLY TEXAS is the website to complete your common application for public schools in Texas. Be sure to record your USER NAME & PASSWORD somewhere that you'll remember it. You can go back into your application at any time and can submit the application with all of your resume and personal information at any time to multiple colleges/universities. Here is the LINK:
The PDF files on this page are pages from the College Steps magazine by Wells Fargo. The pages I've uploaded include great information for current Juniors and Seniors. For more information from this great college planning website, go to wellsfargo.com/collegesteps.
Scheduling...Preregistration 2019-20
Click below to go to the TXEIS My Zone page where you can preregister or check out your course requests for next year!!
College Match Website...click below:
This website is a "ranking" site that gives you information about the ranking of institutions in different categories...i.e. law schools, medical schools, veterinarian, physical therapy, etc. You can do ranking for different subjects and see where the schools you may be interested in will fall out in the listing. Here's the site:
StartClass.com by Graphiq
COLLEGE COVERED is a website that has several FREE tools to help seniors prepare for college on topics like:
FAFSA (Free Application for Federal Student Aid)
APPLICATIONS
SCHOLARSHIPS!!
**Check it out HERE:
https://www.collegecovered.com/
ACT & SAT Test Dates/Registration & PREP!!
CHECK OUT THIS FREE SITE TO HELP YOU PREPARE FOR THE ACT/SAT TESTS!
and this one:
https://www.higherscorestestprep.com
Built using the world's leading collection of online resources, ACT Academy provides students with personalized study plans to help them prepare for the ACT® test.
---
"ACT Academy will help students improve their readiness for the ACT test and college and career by giving them the resources they need to increase their understanding of core academic skills. And the fact that ACT Academy will be free to all students is yet another way ACT is working to close gaps in equity, opportunity and achievement for underserved learners."
Suzana Delanghe, ACT chief commercial officer
---
Empower your students, share and encourage use of this FREE ACT test prep platform.
Built using the world's leading collection of online resources, ACT Academy provides students with personalized study plans to help them prepare for the ACT® test.
---
"ACT Academy will help students improve their readiness for the ACT test and college and career by giving them the resources they need to increase their understanding of core academic skills. And the fact that ACT Academy will be free to all students is yet another way ACT is working to close gaps in equity, opportunity and achievement for underserved learners."
Suzana Delanghe, ACT chief commercial officer
---
Empower your students, share and encourage use of this FREE ACT test prep platform.

Chad Cargill - ACT Prep Workshop!
Thursday, AUGUST 30th @
Childress Jr. High Auditorium
8:30a.m.- 11:30a.m.
********************************
COST $30 per student
Make CHECKS payable to Childress ISD
**Payment due by August 21st
Mail to: CHS, 800 Ave. J NW, Childress, TX 79201
ACT PREP book available for purchase $20
JOIN US FOR A MORNING OF INTENSE and FAST-PACED prep for ACT Math, English, Reading and Science...by using these prep tools, you can raise your ACT Score and qualify for college admission or scholarships.
Dual Credit:
For information about the benefits and success of Dual Credit in Texas please refer to http://www.dualcredittexas.org
Students wishing to apply and register for Dual Credit from Clarendon College must complete the following items.
Submit an application from http://application.clarendoncollege.edu/
Submit college readiness scores. Most high school students from the Clarendon College service area have already tested and the College already has the scores. (Directions for submitting scores can be found in the application portal from step 1.)
Submit a copy of your high school transcript (Directions for submitting the high school transcript can be found in the application portal from step 1.)
Submit a completed Dual Credit / Early Admissions Approval form. This form can be obtained from your high school counselor. It requires a signature from a high school administrator (counselor or principal.)
Submit a completed Dual Credit Registration Form. This form can be obtained from your high school counselor.
Make payment arrangements. Please contact your high school counselor for information about payment arrangement
Suicide Awareness and Prevention
Suicidal intentions and mental health is a major topic of concern for America's parents, teachers and youth. The powerpoint on this page has helpful information about how to be aware of risk factors, actions or clues that may indicate a person's intention to harm themselves or others. If you have questions about yourself or someone else's behavior, and whether or not they may be considering violent actions, please take the time to view this powerpoint or come to the counselor's office to talk about your concerns.
Texas Success Initiative EXAM (TSI)
Visit the links below to find material to help you prepare for and know what to expect on the TSI test. Also check out the TSI Exemptions that might allow you to bypass the TSI Exam altogether if you've already shown college readiness.
How Do I Prepare for the TSI Exam
STAAR End of Course Test Dates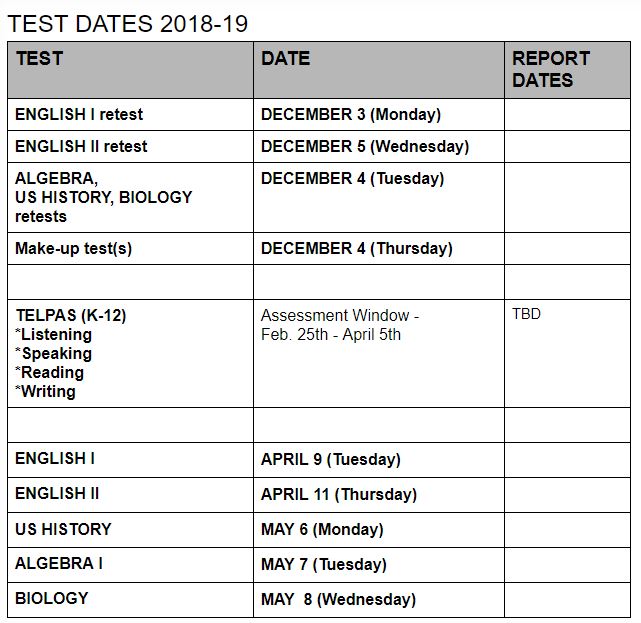 SPEC Youth Tour Opportunity
South Plains Electric Youth Tour opportunity is here for 2018 Youth Tour (all expenses paid trip to Washington, D.C.). You must APPLY BY 5:00p.m. Monday, NOVEMBER 13th.
You can link to the SPEC Youth Tour page, information and application here:
http://www.spec.coop/content/youth-tour-0
Guidance Lessons:
FEBRUARY GUIDANCE LESSON:
HEALTHY RELATIONSHIPS
utilizing LoveisRespect.org
Guided Tour...CLICK BELOW: